Regular price
Sale price
$30.00 USD
Unit price
per
Sale
Sold out
Stitch a collection of dainty, self-supporting charms in the shape of cherry blossom flowers! The Sakura Bouquet necklace features four different varieties of the cherry blossom flower all woven from different petal-shaped glass beads. Two Sakura charms pair together for a light pair of earrings, while a collection of Sakura charms form a long, blooming necklace. Create them in different colors for each season of the year, and combine them together in many different ways for a variety of necklaces. The possibilities are endless!
This pattern uses variations on the circular peyote and Prismatic Right-Angle Weave (PRAW) techniques; beaders who are familiar with PRAW are in great shape to try out this design. The pattern includes detailed step-by-step instructions showing how to weave four different typesof the Sakura charm, as well as guidelines on how to arrange them in a necklace.
Pattern
The Sakura Bouquet beading pattern includes:
Complete written instructions on how to weave four different varieties of the Sakura charm, plus the Baby's Breath charm!
30 pages of step-by-step instructions.
84 full color illustrations and photographs.
Several photos of finished jewelry and design variations.
Materials
To stitch this necklace, you'll need:
Czech 8x7mm petal shaped beads
Czech 6mm lentil beads
Czech 4x6mm drop beads
Czech Rizo beads
6mm Japanese bugle beads
Japanese peanut seed beads
8° Toho Demi Round or 3mm Miyuki spacer seed beads (optional)
15°, 11°, and 8° Japanese seed beads
A toggle or hook clasp
Beading thread (6lb Fireline, KO, Miyuki beading thread, or One G)
Dimensions: 0.4-0.6 inches (1-1.7 cm) flower diameter
Techniques: Prismatic Right Angle Weave (PRAW) variation, Circular Peyote, Netting, and Chevron
Difficulty: Intermediate
Share
View full details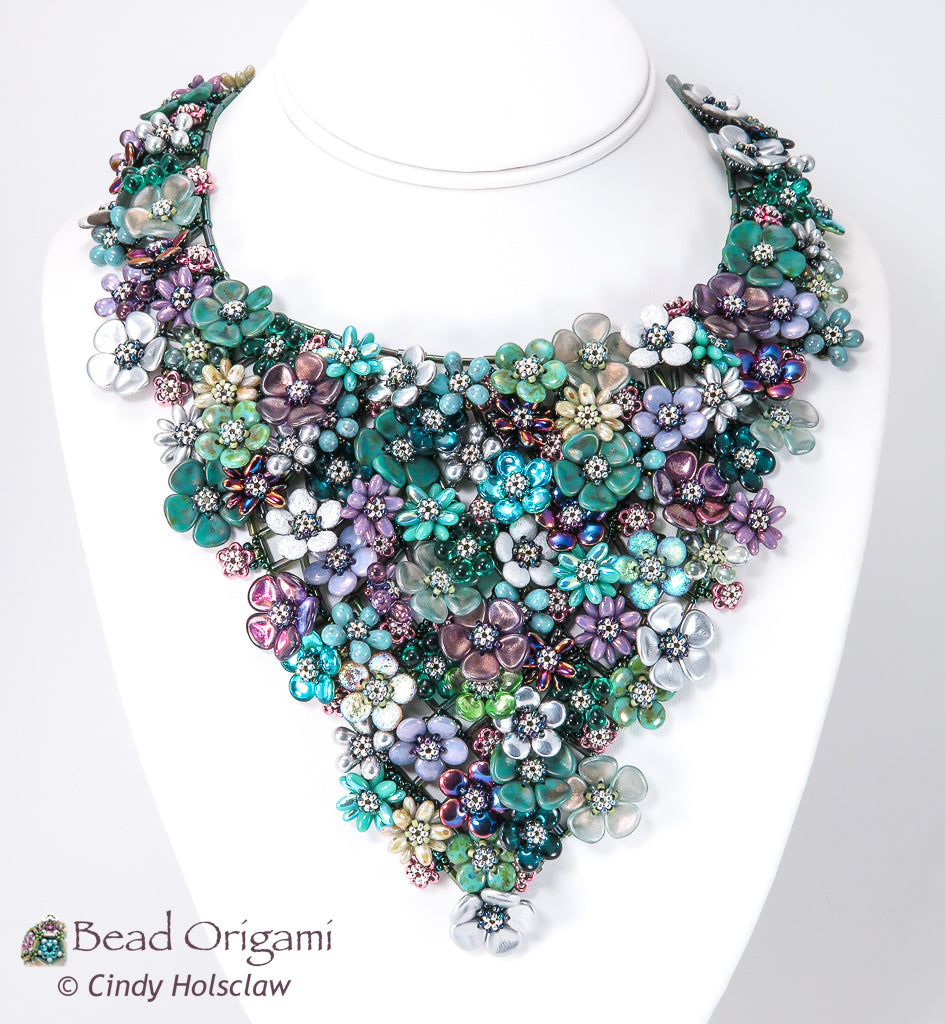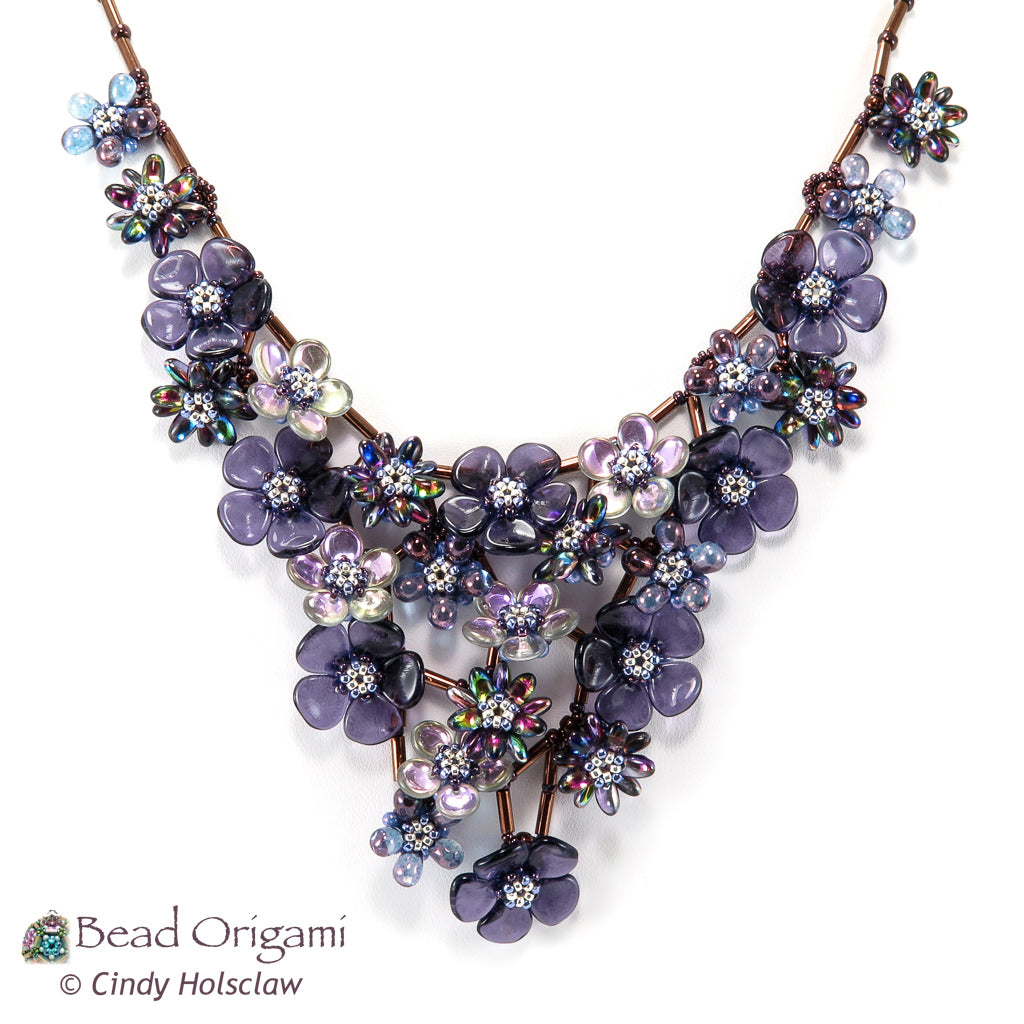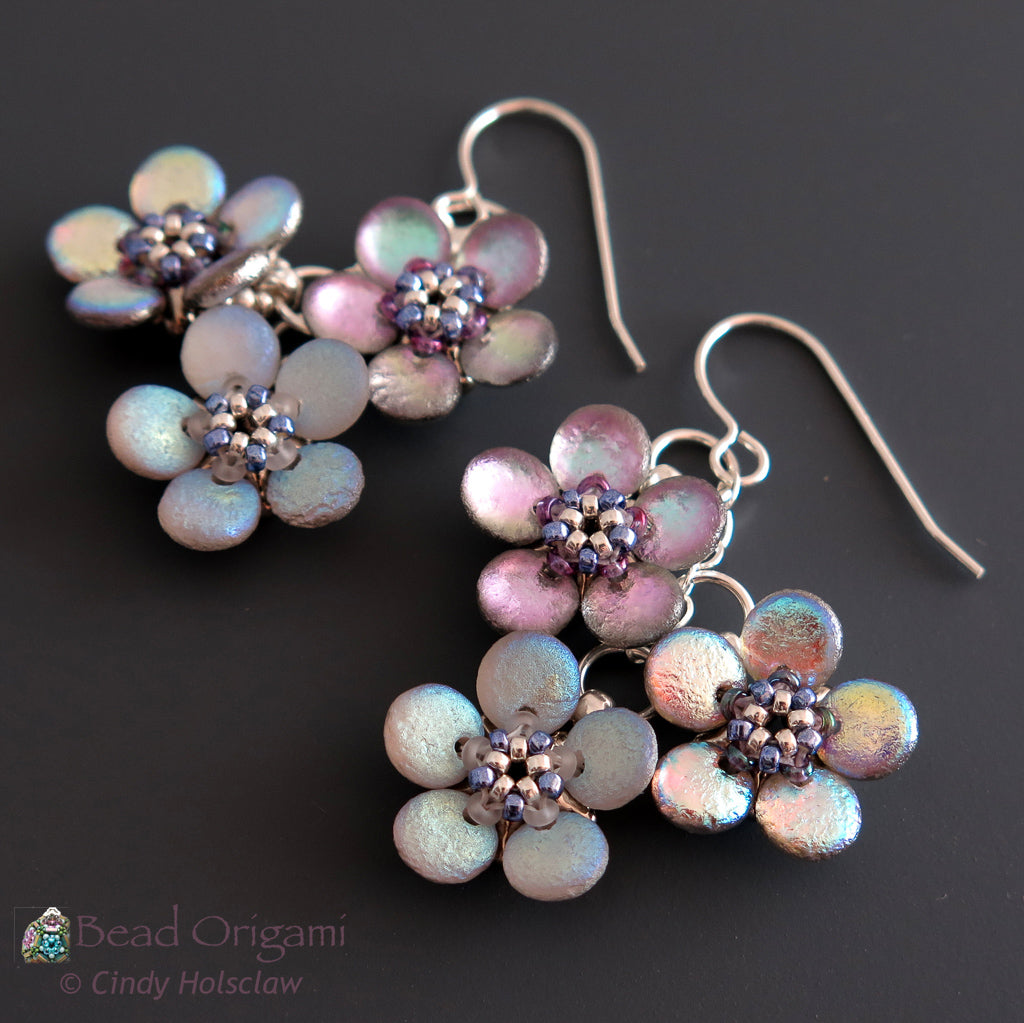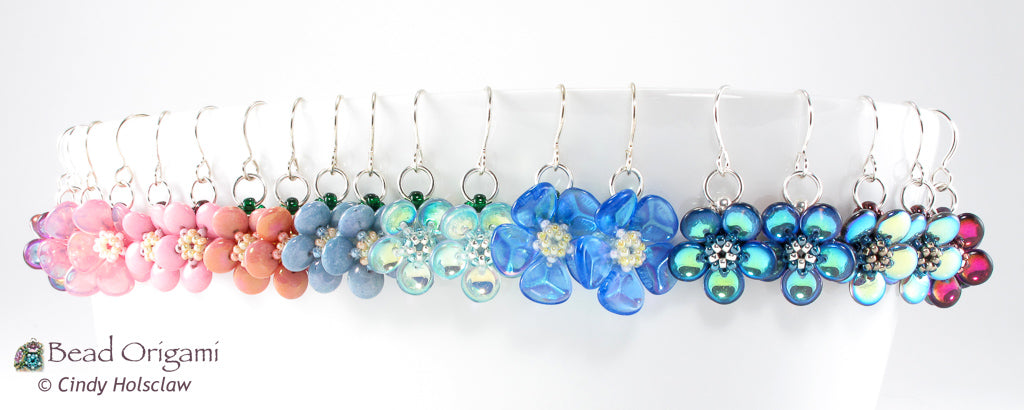 Please visit the policies pages for ordering, shipping, payment, return, and download policies. Please note that Bead Origami patterns are sold as downloadable PDF files; printed materials are not included in the pattern purchase. Patterns do not contain color names or color numbers. Kits do not include instructions; the corresponding pattern must be purchased separately. Monitor calibration differences and manufacturer dye lot changes can lead to slight color differences between the sample photos and the beads in the kit. Please see the FAQ page for more information on all of these topics.
Unauthorized distribution or reproduction of any Bead Origami pattern or kit is prohibited without express written permission. Please visit the Copyright page for more information. Thank you for respecting my copyright.
Questions? Check the FAQ, or contact me.