Regular price
Sale price
$14.00 USD
Unit price
per
Sale
Sold out
Explore a type of CRAW that twists and coils! The Star Fragment Pendants feature star-shaped component woven with this unique variation of cubic right-angle weave. This technique expands on Gwen Fisher's Twisted CRAW techniqueto make a CRAW rope that not only twists, but coils like an old-fashioned telephone cord. The rope joins at the ends to make a delightful star-shaped component. One small coiled CRAW component pairs with round crystal pearls or stones to make a petite pendant, and two components join together for a larger statement pendant.
This pattern is appropriate for beaders who are proficient in cubic right-angle weave and who would like the challenge of learning a new variation on this stitch. Beaders who have mastered twisted CRAW are in great shape to try out this design. The pattern includes a detailed overview of the coiled CRAW method as well as new terminology to describe the unique features of the stitch. The detailed instructions in this pattern show how to make two different sizes of Star Fragment Pendants, and these components can also be incorporated into several other types of jewelry.
Pattern
The Star Fragment beading pattern includes:
An introduction to coiled cubic right-angle weave (cCRAW), a variation on twisted cubic right-angle weave.
Complete written instructions on how to weave two different sizes of Star Fragment Pendants.
22 pages of step-by-step instructions.
85 full color illustrations and photographs.
Several photos of finished jewelry and design variations.
Materials
To stitch these pendants, you'll need:
3mm bicone crystals
3mm crystal pearls
3mm fire polish beads
8mm and 12mm round beads
15°, 11°, and 8° Japanese seed beads
Beading thread (6lb Fireline)
Dimensions: 1.5 to 2.25 inches (3.8 to 5.5 cm) in diameter
Techniques: Coiled Cubic Right Angle Weave (cCRAW)
Difficulty: Advanced
Share
View full details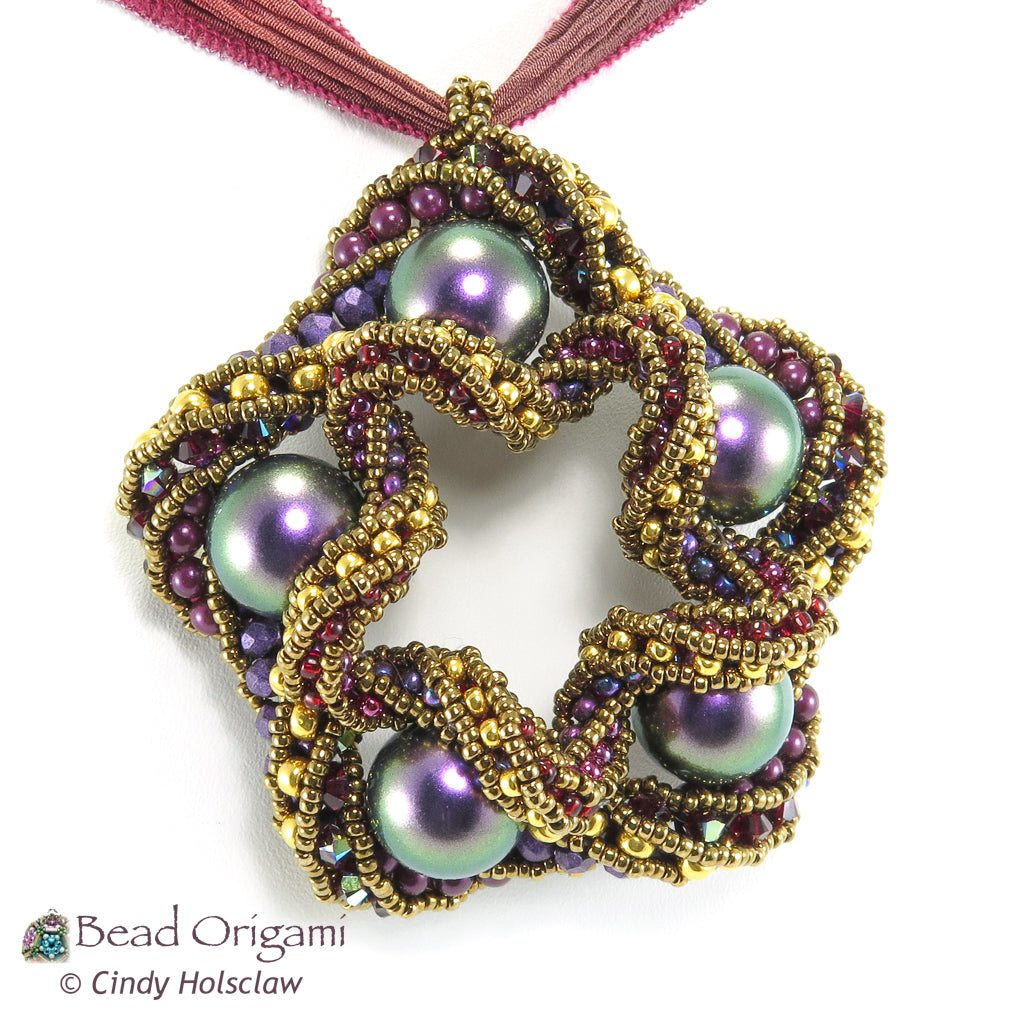 Please visit the policies pages for ordering, shipping, payment, return, and download policies. Please note that Bead Origami patterns are sold as downloadable PDF files; printed materials are not included in the pattern purchase. Patterns do not contain color names or color numbers. Kits do not include instructions; the corresponding pattern must be purchased separately. Monitor calibration differences and manufacturer dye lot changes can lead to slight color differences between the sample photos and the beads in the kit. Please see the FAQ page for more information on all of these topics.
Unauthorized distribution or reproduction of any Bead Origami pattern or kit is prohibited without express written permission. Please visit the Copyright page for more information. Thank you for respecting my copyright.
Questions? Check the FAQ, or contact me.